Description
Please Note: This Time Clock requires a monthly subscription for use, please see the subscription plans below. You will sign up for your plan after receiving the time clock.
uAttend Proximity Badge Time Clock with Wifi Features:
RFID Card Reader
Other punch options: PIN Punching, Smartphone, Web, and Telephone
Customizable Display
Large Color Display
Voice Response
Plug 'n' Play Internet Ready
Connects to the Internet via: LAN& Wifi

Unlimited Employees
Quick and easy setup, including unlimited support
Track start times, break times, meal times, and finish times
Transfer Departments from the time clock
Job tracking from the time clock
How It Works with Quickbooks:
Any time clock that works with Quickbooks will function basically the same way. Quickbooks itself does not actually talk to any time clocks, which means we need to have a piece of software in between to act as the middleman. In this case it would be uAttend Software. The employees punch at the time clock and those punches flow back to uAttend into each employees virtual time card. The administrators will login to uAttend and review the employees time cards for errors & missing punches, and add in any non work time, such as Sick, Vacation, Holiday, and more. Once the administrator is satisfied with each employees time card and it is time to process payroll, they will click an Export Data button that creates a file in the format Quickbooks is looking for. Each type of hours and the number of hours the employee had in that period will automatically be placed into their paycheck in the Quickbooks Payroll module. No more adding up time sheets, rounding time manually, or entering time by hand. uAttend will do all of that for you.
uAttend Cloud Software Features:
Required subscription to the cloud allows you to access all punch data 24/7.
Rules and policies created in the cloud seamlessly integrate onto the time clock.
Add and edit positions and permissions with ease.
Transfer employees among departments, locations, and track jobs.
Pay periods: Weekly, Bi-Weekly, Semi-Monthly, and Monthly.
Manage shifts, punch rounding, overtime, lockouts, accruals, vacation, holiday hours, and much more.
Run real time reports on missed punches, employee hours, time card reports and much more.
Create optional IP and geolocation restrictions for web and smartphone punching.
FREE iPhone/Android Smartphone App
Employers can email time cards to employees.
Employees can view their cumulative hours and send time off requests from the time clock and in the cloud.
Hundreds of export options for your payroll, including ADP®, Paychex®, and QuickBooks®
FREE Lifetime Replacements*
FREE Lifetime Support*
Unlimited Data Storage
Free Software Updates for Life
Your subscription includes unlimited access to customer and technical support by phone, email, or live chat.
Subscription Options:
uAttend Built in Quickbooks Exports:
(Quickbooks integration available for $5 per month)

Video Testimonial:
Download a PDF: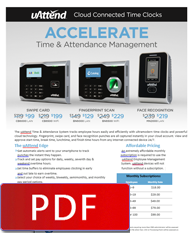 Additional Information
| | |
| --- | --- |
| Number of Employees: | Unlimited |
| Accepts Badges: | Yes |
| Accepts Fingerprints: | No |
| Accepts Pin Entry: | Yes |
| Wifi Enabled: | Yes |
| Displays Employee Hours: | Yes |
| Monthly Fee: | Yes (Software Subscription Required) |
| Works with Quickbooks Desktop: | Yes - Any Version |
| Works with Quickbooks Online: | No |